Online Instruction Guide for learning Data Acquisition with the Visual Basic 2005 Express Edition
Learning Objectives
Following our step by step Instruction Guide, the user will create a Light Intensity Logger, a Night Light, and Universal Thermometer. After completion of these exercises, the user would have learnt the following
Sensor / Actuator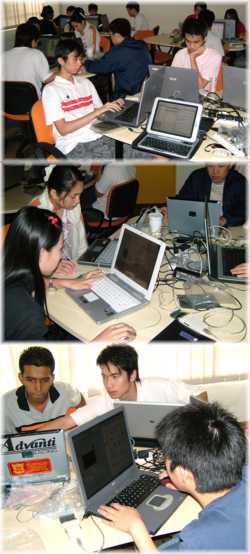 Photodiode

Switch

LED

Thermistor
Data Acquisition (DAQ)
Analog Input

Analog Output

Digital Input

Digital Output
Visual Basic
Basic Program Structure

Variables & Statements

Console Input/Output

Branching Statement if else

for Loop

do Loop

Array

File IO

Windows Forms

Simple Instrument Controls
The exercises will take about 6 hours to complete. The optional exercises are intended for the faster learners.
Important Note
The PC must be correctly setup in order for you to complete the exercises in this instructional guide. Microsoft Visual Basic .NET 2005 must already be installed.
If you have not installed Microsoft Visual Basic .NET 2005, you may download the Express Versions for FREE.
Download EMANTVB2005.zip (1400 kb). Copy the entire EmantVB2005 folder to your PC, preferably to your My Documents folder. The exercises may be completed without the Data Acquisition Module by using the software simulator.
DAQ & Visual Basic Page 1 | 2 | 3 | 4 | 5 | 6 | 7 | 8 | 9 | 10 | 11 | 12 | 13 | 14 | 15 | 16 | 17 | 18 | 19 | 20 | 21 | 22 | 23 | 24 | 25 | 26 | 27 | 28 | 29 | 30 | 31 | 32 | 33 | 34 | 35 | 36 | 37